I am joining Vicki at
2 bags full
for her
Grow your blog
party.
Below is just a little information about me and my blog.
I hope you will enjoy what you read and
maybe even join me as I go along.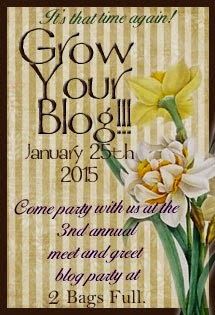 My name is Diana and I'm retired.
I love to take photo's but am no expert.
I started this blog as a personal challenge and have had it going for a year or so now.
To start with I was trying to post a picture each day for a year showing what was going on in my life at the time. This year I have decided to post a photo a day but not necessarily about myself, no theme at present.
A couple of times a week I like to take part in a couple of blog parties, it can be fun seeing what is going on in other parts of the world.
I want to learn to take better pictures without it becoming a chore.
This is me with Tabitha the donkey. No, she doesn't belong to us.
We have a large ginger cat.